Mickey's Not-So-Scary Halloween Party
Join Mickey's Halloween party at Magic Kingdom Park – kids of all ages invited!
Celebrate Halloween with Mickey at Walt Disney World Resort!
"Not-so-scary" entertainment for children of all ages!
Go trick-or-treating, enjoy shows, parades & fireworks
SELECT NIGHTS
From 13 August - 1 November 2020
Oh darn!

This ticket isn't available to book right now.

This may be because:
We have sold out
This product is seasonal and tickets for the new season are not yet available
But don't worry! There's loads more to do in Florida, so check out our:

An email has been sent to our team. We'll be in touch as soon as we can.
Sorry there has been an error!
Have a Spook-tacular time at Mickey's Not-So-Scary Halloween Party!
Heading to Walt Disney World Resort in Florida this Halloween? Enjoy a night of fiendishly family-friendly fun at Mickey's Not-So-Scary Halloween Party in Magic Kingdom Park.
This devilishly delightful night includes the return of "Disney's Not So Spooky Spectacular" fireworks show (hosted by Jack Skellington, telling a Halloween tale about Mickey, Minnie, Donald and Goofy), "Mickey's Boo-to-You Halloween Parade," the "Hocus Pocus Villain Speltacular" stage show and more!
During the event, guests will have the opportunity to greet favorite Disney characters (some wearing Halloween costumers of their own!), go trick-or-treating throughout the park, dance the night away at the Storybook Circus Disney Junior Jam and enjoy popular attractions with a special Halloween twist, including Monsters Inc. Laugh Floor, Pirates of the Caribbean, Space Mountain and Mad Tea Party.
The fun also includes Halloween decor, delicious food, speciality merchandise and some bewitching surprises along the way.
*To secure your preferred event date, full payment is required at the time of booking. Please note that these tickets are exempt from our cancellation protection policy.
Please note Disney's FastPass+ are not avalible during events.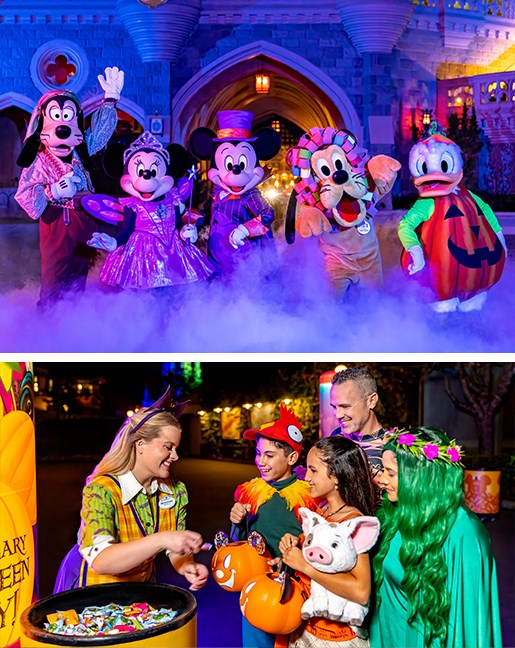 How scary is it?
As with everything else at Mickey's Not-So-Scary Halloween Party – it's Not So Scary but it is LOTS OF FUN! Meaning that even the youngest members of the family can enjoy it.
Tricks AND Treat!
Everyone knows the best part of Halloween is Trick-or-Treating! Get your fill of Halloween sweets and snacks as you gather up goodies from land to land.
Enchanting Entertainment
Each night, when darkness falls, the park comes to life with spellbinding performances, phenomenal fireworks, wickedly wild processions and more.
So get ready for some weird and wondrous one-of-a-kind experiences that are as frightful as they are delightful!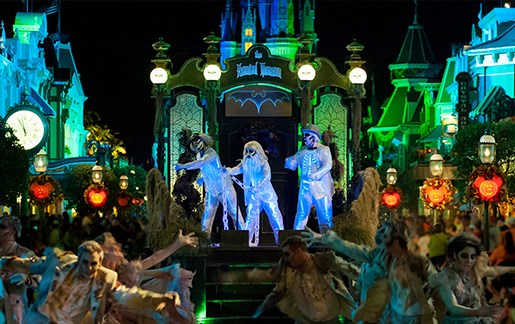 A Spooktacular Parade
Don't miss the ever-popular Halloween parade, where some of your favourite Disney Characters march in masquerade alongside stars from the Haunted Mansion.
See the Characters in their "haunt-couture"
Meet and mingle with Disney friends—some wearing their own special Halloween costumes, from the spooky to the spectacular!
©Disney
Frequently Asked Questions
What is Mickey's Halloween Party?
Mickey's Not-So-Scary Halloween Party is an annual Halloween celebration at Walt Disney World Resort in Florida. It is a special event and requires an additional ticket purchase. During the event, Magic Kingdom park opens at night with a Halloween theme aimed largely at families and children. The main celebrations include parades, character meet & greets, and shows. Some regular park attractions are also open, including Space Mountain and Mad Tea Party.
What time does it start?
The event officially starts at 7pm, but you can enter Magic Kingdom before then (around 4pm).
How long does it last?
Until midnight (5 hours).
What days are Mickey's Halloween Party in 2020?
August : 13th, 18th, 21st, 25th and 28th
September : 1st, 4th, 7th, 11th, 13th,15th, 18th, 20th, 22nd, 25th, 27th and 29th
October: 1st, 2nd, 4th, 6th, 8th, 9th, 12th,13th, 15th, 16th, 18th, 20th, 22nd, 23rd, 25th, 27th, 29th and 31st
November: 1st
What can I wear to Mickey's Halloween Party?
Anything comfortable! If you'd like to wear a costume, please see official Disney information below:
While we encourage creativity, we also value safety and good judgment. If you're planning to attend these special holiday events, take a moment to read over our latest rules and regulations:
Disney reserves the right to deny admission to or remove any person wearing attire that is considered inappropriate or attire that could detract from the experience of other Guests.
You may dress as your favourite character, but may not pose for pictures or sign autographs for other Guests.
Costumes must be family-friendly and may not be obstructive, offensive, objectionable or violent.
Costumes may not contain any weapons that resemble or could easily be mistaken for an actual weapon.
Costumes may not contain sharp objects, pointed objects or materials that may accidentally strike another Guest.
You may be refused entry into, and/or removed from the Parks if your costume does not adhere to these guidelines, unless it can be modified to meet the above standards.
For Guests aged 13 & under:
Costumes and some masks may be worn, as long as the mask does not cover the entire face and eyes are visible.
For Guests aged 14 & over:
Layered costumes or costume props that surround the entire body are strongly discouraged and may be subject to additional security screening.
Costumes may not reach or drag on the ground. (e.g.,full-length Princess dresses)
Capes may be worn if the length does not go below the waist.
Themed T-shirts, blouses, sweatshirts, and hats are acceptable.
Acceptable accessories include: transparent wings, plastic light sabers, toy swords, and tutus. Headwear may be worn as long as it does not cover the face.
Masks of any kind may not be worn.
What rides are open during Mickey's Halloween Party?
The following rides and attractions will be open during Mickey's Not-So-Scary Halloween party:
Space Mountain
Mad Tea Party
Pirates of the Caribbean
Monsters Inc. Laugh Floor
Does it cost extra?
Yes, Mickey's Not-So-Scary Halloween party is a separately ticketed event and not accessible with general admission Disney World tickets. You can only use your Mickey's Not-So-Scary Halloween Party ticket on the date you specify when booking.
Getting There
Mickey's Not-So-Scary Halloween Party takes place in Magic Kingdom Park.
Address
1180 Seven Seas Dr, Lake Buena Vista, FL 32830, USA
Terms & Conditions
Please note that once booked the tickets are non-transferable and non-refundable. All rules and regulations are subject to change without notice. Tickets will not be sent until full payment is made.