The Beginner's Guide to Disney Bands
The Beginner's Guide to Disney Bands
If you're totally new to the magic of Walt Disney World Resort in Florida, or you haven't visited for a while, you may be wondering what all this fuss is over the Disney Band; a plastic bracelet that links to a computer and acts as a ticket… Is it really magic? Well, it doesn't do tricks, but it does do some other pretty impressive stuff!
So if you're new to the phenomenon that is the Disney Band, here are the most important things you should know about it!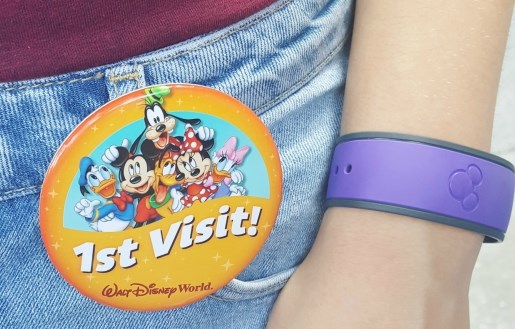 In the words of Walt Disney World: "this colorful wristband is actually an all-in-one device that effortlessly connects you to all the vacation choices you made with My Disney Experience".
But in truly magical Disney style, this one little wristband has the power to connect you entire Walt Disney World experience!
It works as a Fast Pass & a Dining Credit
If you make Disney Genie reservations using My Disney Experience, they will be stored on your band. If you are on the Disney Dining Plan, you can use it to spend your credits.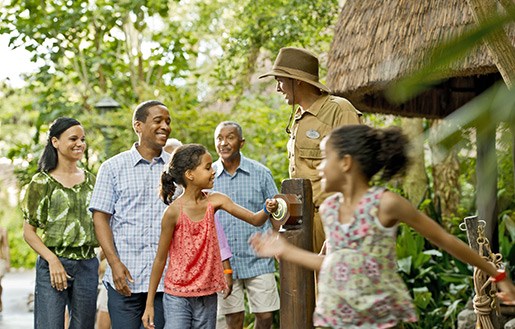 It stores all your Park Photos
The Disney Memory Maker Package stores all of your ride and park photos for you to download when you get home. If you have the Memory Maker package, you just need to scan your Disney Band whenever you have a professional photo taken (or a ride photo) and it's saved in your account!
The Memory Maker is usually $199 but for 2023-2024 it's included with Walt Disney World tickets!
It scans you in!
If you have booked Disney Genie for any rides or attractions, just scan your Disney Band on the Touch Point sensor (Mickey Head to Mickey Head) at the ride entrance, and once it flashes green, you are in! Every member of your party with a band needs to do this at each attraction they have Disney Genie for.
Want to know more about Disney Genie? Read the Guide to My Disney Experience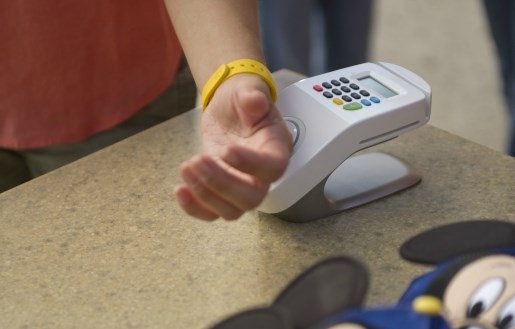 You can leave your money and room keys at home!
The band acts as your theme park entry ticket, your Disney Resort Hotel room key and a charging card for buying merchandise, food and drinks. They are made to be so convenient that you won't need to bring any money into the parks.
It's totally secure
Disney Bands use Radio Frequency technology which interacts with long and short readers in the Disney Theme Parks. No personal information is stored, and you will be required to set up a 4-digit PIN for added security before you can use it to make purchases.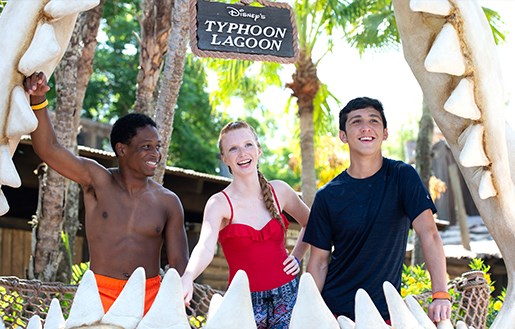 And a bonus fact: It's waterproof!
So you can wear your band to the water parks, in the pools, on the wet rides and not worry about getting caught in those surprise Florida afternoon downpours.
DisneyBand Personal Touches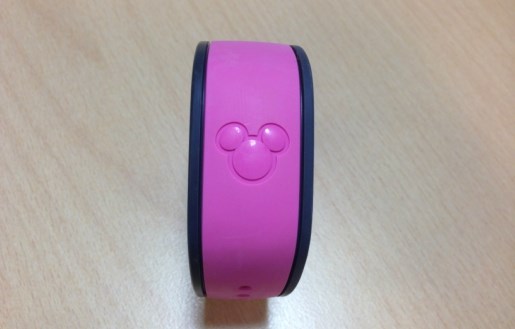 You can personalise it with your name and favourite colour...
If you are staying at a Walt Disney World Resort hotel, you will be able to customise your band online at My Disney Experience up until 1 calendar month before you visit. Because the bands can't yet be posted to addresses outside the US, they will be waiting for you to collect when you check in to your hotel!
At the moment, you can chose from 7 colours and have your name (up to 9 characters) in the inside. If you choose not to customise your band, you will receive one in the standard grey colour.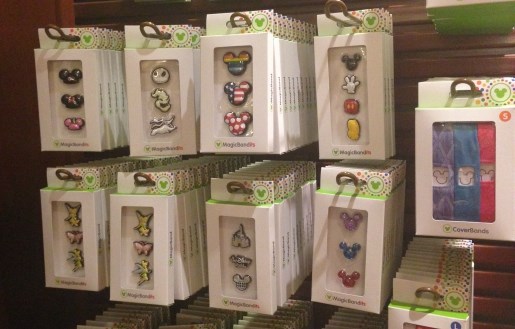 ...and even accessorise it!
You can make your band totally unique by decorating it with accessories! "MagicBandits" are similar to the charms you can put on Crocs, and you can also buy "sliders" which fit around the centre of your band.
These are the official options that can be purchased at the park, but there are also websites where you can buy stickers which are like a cover for your band.
Using Disney Bands at Disney World Resort Hotels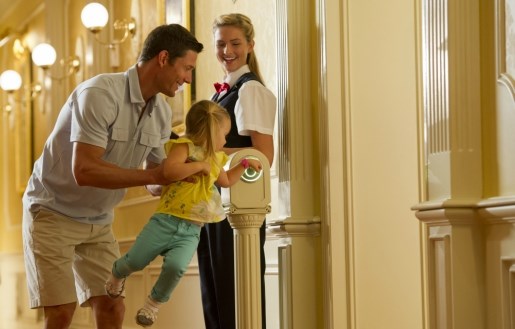 FREE for Disney World Hotel guests
Disney Bands are given to guests who are either staying at a Walt Disney World Resort hotel or are an Annual Pass-holder. If you are staying outside of a Walt Disney World Resort you can still buy your band at the park.
Disney Bands: Do I need one?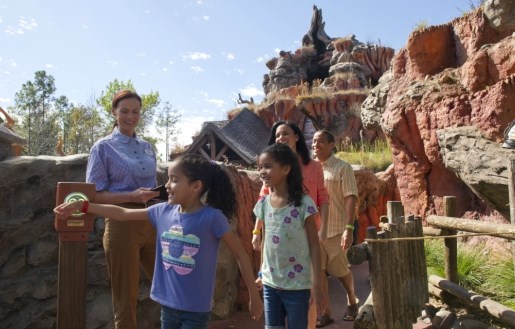 You don't HAVE to have a Disney Band (but why you wouldn't you?)
HOTEL ACCESS
You don't have to worry about managing a hotel key on your vacation. Your Disney Band works as a room key on your hotel room door! Just be sure that your band is linked to your My Disney Experience account prior to your trip.
PARK TICKETS
Your Disney Band will serve as your park ticket! Your Disney Band and ticket will also be connected with your fingerprint, so expect to show your pointer when you scan your band.
Want to see more than just Magic Kingdom? Park hopping, for example? No worries! It's all covered on a single Disney Band.
PHOTO AND VIDEO MEMORIES
When you are visiting the parks, you'll find plenty of opportunities to get your photo taken with a Disney PhotoPass photographer. You can link these photos to your Disney account through your Disney Band!
Disney PhotoPass photographers will scan your Disney Band to link any photos they take. And, if you are wearing your Disney Band on rides, it automatically links photos and videos of you on certain attractions to your Disney account. In fact, your Disney Band is the ONLY way for guests to get video coverage of you on a ride!
Any Questions?
We're here to help with any questions you might have about Walt Disney World Resort and Disney Bands!
Contact us