Visit WonderWorks - Orlando's only upside down attraction & see everything turn on its head - literally!
FLEXIBLE DATES
Use before the end of the year
With Select Tickets
The Outta Control Magic Comedy Dinner Show
Challenge your mind at WonderWorks Orlando!
Enter the astonishing world of WonderWorks where everything is upside down! Go on an adventure through 6 wonderful zones, designed to challenge your imagination.
The bizarre story behind WonderWorks.....
Where could a place as bizarre as WonderWorks originate from? A top secret research laboratory on a remote island in the Bermuda Triangle, of course!
When a highly classified science project went wrong, it unleashed a vortex, so powerful that it ripped the lab off the ground and planted it in Orlando…upside down! Surprisingly, all the equipment inside remained intact.
And that is the story of how Wonderworks Orlando came to be. Now it's up to you to go and explore the world of mind-boggling insanity!
WonderWorks Entertainment & Activities
Discover 35,000 square feet of education and entertainment. Get hands-on with over 100 exciting exhibits. And of course – try out these attractions!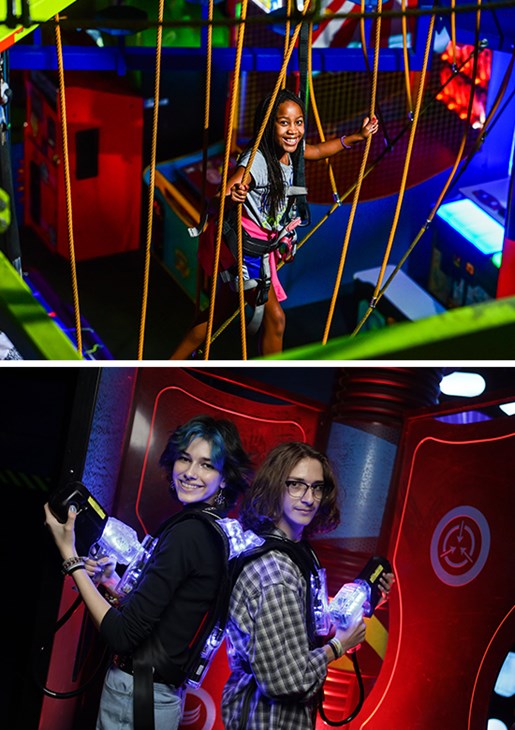 Can you conquer the Rope Course?
Whether you're a climbing pro, or a keen newbie, you'll thoroughly enjoy the sense of accomplishment once you've defeated WonderWorks' Rope Course.
Play Unlimited Laser Tag
Descend into the 10,000 square-foot basement of WonderWorks Orlando and get ready for combat!
Gear up and shoot your way to victory in a thrilling game of Laser Tag. The object is simple – outlast and outshoot your opponents. Good luck!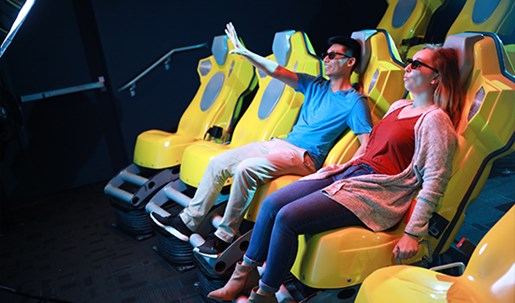 Experience 4D Cinema
Take a seat in WonderWorks' 12-person 4D cinema - it's your time to have a big screen adventure!
Transcend time, space and imagination and feel like you're part of the movie, thanks to the combination of 3D film with special effects and full motion seating.
The Outta Control Magic Comedy Dinner Show
Book the Ultimate Magic Combo Ticket and add the amazing Outta Control Magic Comedy Dinner Show to your day at WonderWorks.
Mix magic, comedy and imagination; put great food in unlimited quantities on top; and Voila! The Outta Control Magic Comedy Dinner Show comes to be.
Get ready for a hilarious night of entertainment where you're not just a spectator, but you're part of the action too. Experience loads of fun for the whole family!
Help yourself to as much pizza and salad as you want, plus unlimited beer, wine and soft drinks to enjoy throughout the night too. And not forgetting some tasty dessert at the end.
What is WonderWorks?
Wonderworks is an indoor family amusement park in Orlando, Florida. The park combines entertainment and education, with over 100 exhibits and attractions themed around challenging the mind. WonderWorks is largely aimed at children and early teens, but features family attractions including laser tag and a '4D cinema'.
What time does WonderWorks open?
What days are WonderWorks open?
Everyday - WonderWorks operates 365 days a year.
Outta Control Magic Comedy Dinner Show Times
Nightly shows at 6pm & 8pm
Between June 27th and Auguest 9th extra nightly show at 4pm
The show is approximately 90 minutes.
Please ensure you arrive at least 30 minutes before the show starts
To reserve your seats, please call the number provided on your e-ticket at least 48 hours before you plan to visit
Getting there
Address
WonderWorks is located at 9067 International Drive, Orlando, Florida, 32819
The Outta Control Magic Comedy Dinner show is located inside the WonderWorks building
Parking
Parking is available at the Pointe Orlando parking garage.
Parking fees are $4 for the first hour, $2 each additional hour, with a maximum fee of $10
Restrictions
You must wear closed-toe shoes for the ropes course and certain other attractions inside WonderWorks
Children
Children under 3 go FREE!
If you are bringing a child under 3 you must let us know in advance by calling the number shown on your e-ticket
Facilities include