Pulse-racing coasters, ocean creatures and seriously exciting marine experiences – all in one epic theme park!
Unlimited Visits for 14 days
3 PARKS
Visit SeaWorld, Busch Gardens & Aquatica
Ride Orlando's tallest, fastest & longest coaster!
Meet rescued Sea Creatures
Thrilling coasters, rescued animals & lots more at SeaWorld!
Get ready for the ultimate adventure at one of the world's most famous theme parks, SeaWorld!
Grab a seat at one of the spectacular live shows, conquer your fears on the park's hair-raising rides and get splashed by Shamu, the world-famous orca.
And it's not just about the shows and rides - SeaWorld is also home to rescued marine animals like dolphins and manatees who are cared for and nursed back to health with the aim of returning them to the ocean.
SeaWorld's Epic Thrill Rides
Get ready for some seriously pulse-racing, record-smashing experiences! Do you have what it takes to be flipped upside down 7 times on Orlando's only floorless rollercoaster - or learn how to fly on the nail-biting Manta? There's only one way to way to find out!....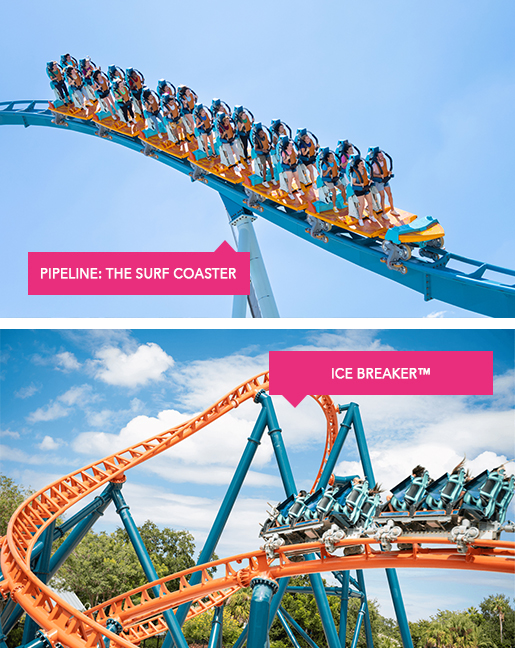 NOW OPEN! Pipeline: The Surf Coaster
A first-of-its-kind surf coaster!
Feel the awesome power of the ocean in a whole new way on Pipeline, the first-of-its-kind surf coaster. As soon as you're in position, you'll know something's different. Experience the rush of launching 110 feet up and sensing every bank and curve as though you're really riding the waves, thanks to an inventive harness that keeps you secure while giving you unparalleled freedom of movement. The seventh addition to the Coaster Capital of Orlando leaves nothing but amazement in its wake.
Ice Breaker™ at SeaWorld;
Will you brave the ice?!
Named after the icy Arctic summits, Ice Breaker will feature four airtime filled launches, both backwards and forwards, culminating in a reverse launch into the steepest beyond vertical drop in Florida.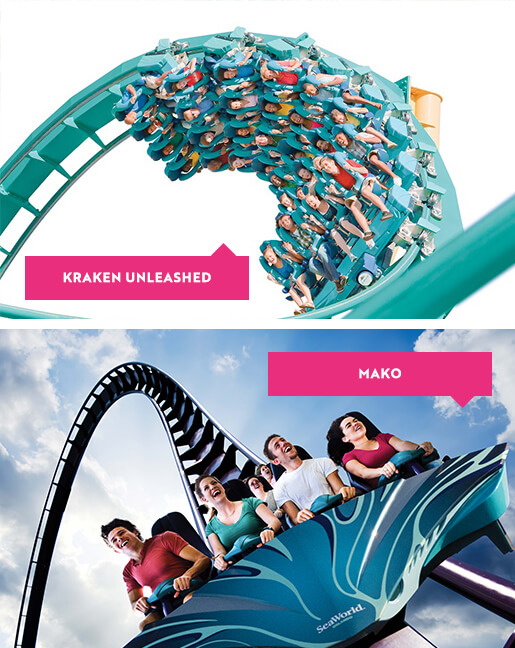 Kraken
Orlando's only floorless coaster is an absolute monster of a ride, and consistently ranked one of the world's top coasters!
As the rollercoaster twists and turns, you'll feel as if you're journeying through the deep, dark hunting grounds of the legendary sea monster which struck terror into the hearts of sailors, narrowly avoiding its clutches as you swoop at blisteringly fast pace through 7 loops including a zero-gravity roll.
Mako
Thrill-seekers look no further! Orlando's fastest, tallest, longest and only hypercoaster is inspired by one of the fastest sharks in the ocean – need we go on??
Reaching record speeds of over 70mph you'll dive deep, turn sharply and soar upwards so suddenly that you float right out of your seat in moments of total weightlessness.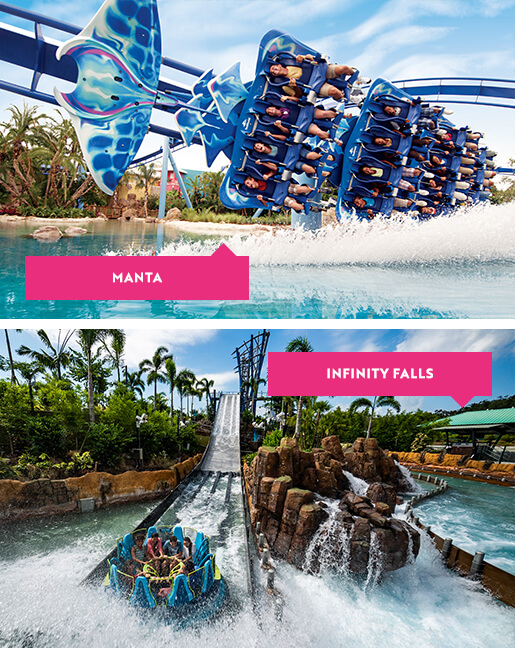 Manta
Experience how it feels to spin, glide, swoop and fly like a giant manta ray on the only coaster of its kind anywhere in the world!
Skim a lagoon surface at over 50mph, soar to 140ft, and plummet 113ft – all head-first and face-down. You've never experienced a thrill ride quite like this before!
Infinity Falls
The World's Tallest River Rapid Drop!
Climb aboard your raft and unearth the secrets of this lost rainforest river, passing drenching fountains and magical waterfalls. But hold on tight - the roaring rapids look like they might just send you flying over that huge drop!
Seasame Street Land
Voted #1 for Best New Amusement Park.
Take a walk down Sesame Street for the very first time, connecting your family to all of the fun, laughter and learning of the world famous street. Explore the iconic neighbourhood as you walk through Abby Cadabby's garden, visit Mr. Hooper's store, stop by Big Bird's nest, sit on the famous 123 stoop and meet your favourite friends from Sesame Street including Elmo, Cookie Monster and Big Bird.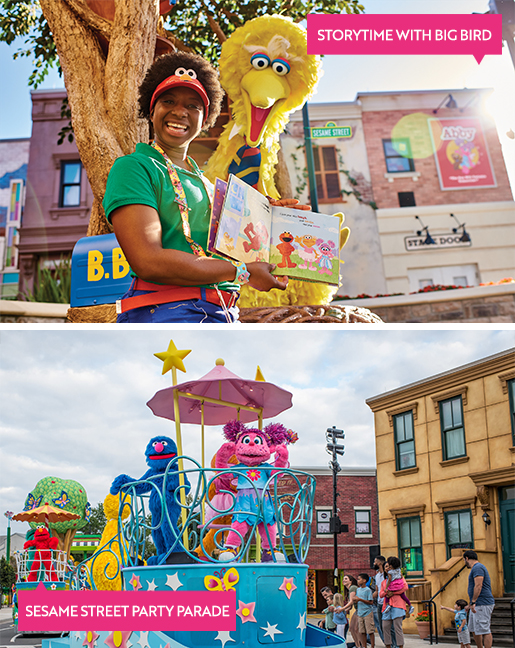 Abby's Flower Tower
Just a sprinkle of magic from Abby Cadabby's wand will send you up, up, up in colourful flower pots aboard Abby's Flower Tower!
Elmo's Choo Choo Train
It's all aboard for everyone on Elmo's Choo Choo Train, an interactive bell-ringing, horn-honking train ride you won't want to miss!
Sesame Street Party Parade
Move to the beat during the coolest party on wheels and celebrate with your favourite friends at the award-winning Sesame Street Party Parade. Visitors of all ages will be up and dancing as Elmo, Big Bird and friends accompany colourful floats – and a few special surprises – in the first parade ever at SeaWorld Orlando.
Storytime with Big Bird
The best storyteller on Sesame Street welcomes all his friends to his nest during Storytime with Big Bird. Your day won't be complete without a special visit to enjoy a tale and take pictures with your favourite feathered friend during this interactive experience everyone can enjoy.
SeaWorld Shows
From talented rescue pets showing off their skills to Clyde and Seamore the Sea Lions clowning around, there are plenty of awesome shows to keep you entertained!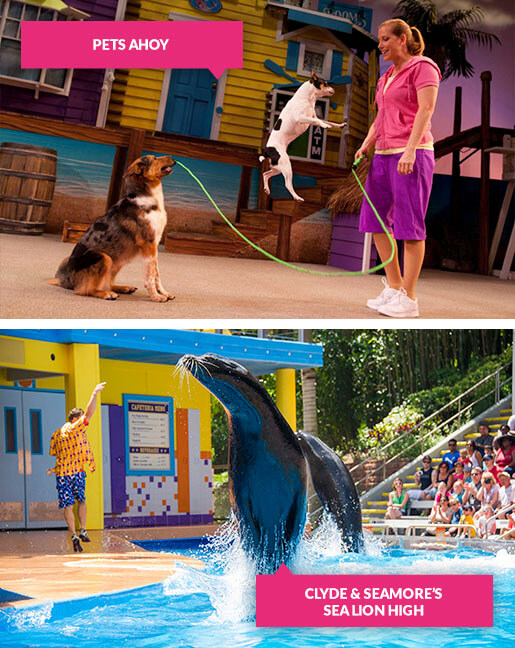 Pets Ahoy
A cast of unlikely characters including potbellied pigs, doves, ducks, cats, dogs and a few surprise animal guests are the stars of this side-splitting family-friendly show!
Sea Lion High: The New Class
Join Clyde and Seamore as they go in slippery pursuit of their high school diplomas.
Watch the mischievous otters and a 164-stone walrus show off their skills in this action-packed show.
Animal Experiences
SeaWorld work tirelessly to rescue and rehabilitate marine animals like dolphins and manatees.
The aim is always to return them to their natural home in the ocean, but if US Government Agencies deem this isn't possible, they can be given a new forever home at SeaWorld.
Animal Experiences at SeaWorld include: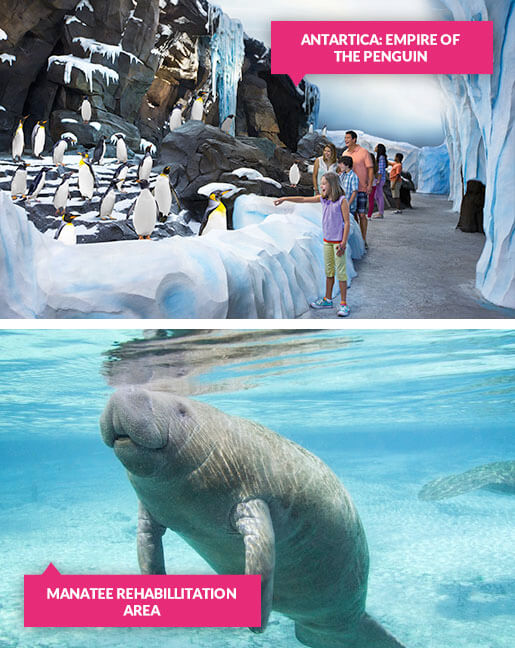 Antarctica: Empire of the Penguin
See 5 different species of penguins waddle around in snowy environments and glide gracefully underwater
Manatee Rehabilitation Area
Go behind the scenes into SeaWorld's working manatee rescue and rehabilitation facility to learn more about the plight of these vulnerable animals in the wild.
Dolphin Nursery
Come face-to-face with the baby dolphins in their newly refurbished nursery!
Watch as they practice delightful new skills like jumping, playing and communicating with their mums and other newborns through clicks and vocalisations. Plus find out lots of information about dolphin behaviour, biology and conservation.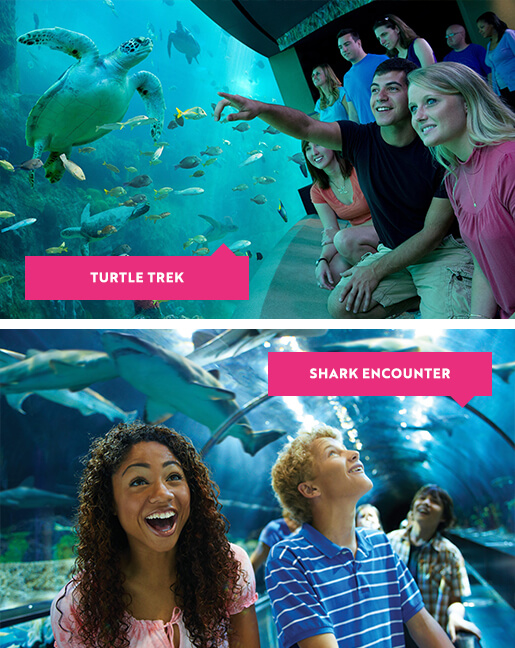 TurtleTrek
From hatching on a beach and making the mad dash to open waters, to the dangers they face as they mature and return to the very same beach to lay their eggs, this awe-inspiring 360° theatre lets you experience what it's like to be a turtle.
Shark Encounter
Journey through one of the world's largest underwater viewing tunnels for a rare, up-close look at these prehistoric predators whose ancestors have dominated the sea for over 450 million years!
Availability
SeaWorld is open from 9am – 9pm, but opening times can vary depending on the season
Getting There
Address
SeaWorld, 7007 SeaWorld Drive, Orlando, FL 32821
Parking
Parking fees per day are
Cars and motorbikes: $18
Recreational vehicles: $20
Preferred parking is available for $20
Book the 3 for 2 ticket and you'll receive FREE parking at all 3 parks (Valid with 2022 and 2023 tickets)
Busch Gardens Shuttle Express
The Busch Gardens Shuttle Express service to Busch Gardens in Tampa resumes from January 2022 and provides a return service from the Orlando area to the park in Tampa.
This service will be complimentary to all guests with a multi-park, Busch Gardens inclusive ticket in hand.
Drop Off & Pick Up Locations
Drop off and pick up locations are the following:
1. SeaWorld (near the bus & taxi drop-off)
2. ICON Park, 8350 Universal Blvd (8445 International Drive, (in the heart of the Entertainment district of I-Drive)
3. Publix, 8145 Vineland Avenue, Lake Buena Vista (near Premium Outlets – Lake Buena Vista area)
4. Old Town Entertainment District, 5770 W. Irlo Bronson Memorial Hwy (serving 192 East in Kissimmee)
5. Doubletree Orlando by Hilton at the Entrance to Universal Orlando, 5780 Major Blvd, Orlando, FL (serving North International Drive area and Universal Orlando guests)
6. Margaritaville Resort – 8000 Fins Up Circle, Kissimmee
IMPORTANT
The service schedule will vary through the year and be subject to change. For guidance purposes only, the Orlando area pick up will be between 0830 and 0930 - depending on location. The return journey from Busch Gardens will depend on park closing time and vary throughout the year.
Guests are recommended to make a reservation for the Shuttle Express to secure their seats. This can be completed by calling 800-221-1339 or visiting https://buschgardens.mears.com. Schedules can be confirmed at this stage.
ID Required?
Restrictions
SeaWorld Quick Queue Unlimited passes can be used on each of the following attractions within one visit day: Mako, Manta, Antarctica: Empire of the Penguin, Journey to Atlantis, TurtleTrek & Wild Arctic.
Height and age restrictions apply on some rides at SeaWorld.
Disabled Access
Wheelchair access is available at all of SeaWorld's rides and attractions
See our SeaWorld Park Guide for more information about disabled access at the park
SeaWorld has been designated as a Certified Autism Center by The International Board of Credentialing and Continuing Education Standards (IBCCES)
Top Guides to read before your trip