Unlimited Visits for 14 days
3 PARKS
Visit Busch Gardens, SeaWorld & Aquatica
Meet all kinds of African Animals!
North America's tallest freestanding drop tower
Action-Packed Adventures at Busch Gardens
Get ready to let loose on some of Florida's most epic thrill rides at Busch Gardens!
Home to over 2,700 wild and wonderful exotic animals, plus plenty of spectacular and hilarious live shows, this must-do theme park has something for everyone.
Epic Thrill Rides
Are you brave enough to take on Busch Gardens' most adrenaline-packed attractions? There's only one way to find out.…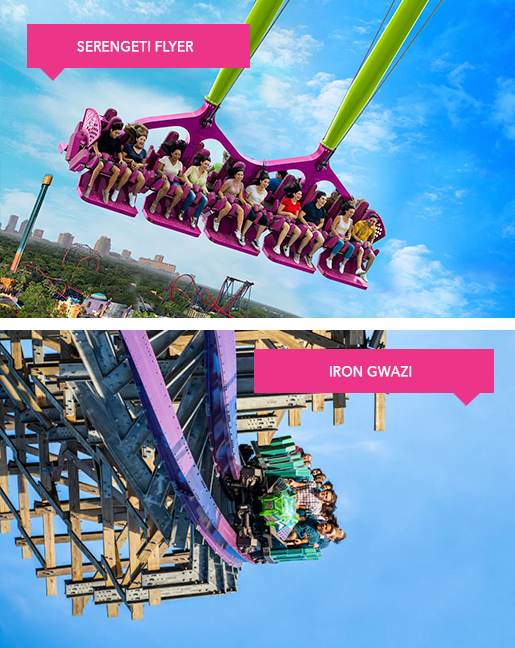 NEW

- Serengeti Flyer™

Serengeti Flyer is the world's tallest and fastest ride of its kind.

With each swing, riders will soar higher and higher above Busch Gardens Tampa Bay's expansive 65-acre Serengeti Plain while experiencing multiple negative-G moments before plunging back toward the Earth.

Serengeti Flyer features twin dueling arms that soar progressively higher reaching speeds of 68 mph and a maximum height of 135 feet at the ride's peak.

Guests are seated back-to-back in rows of 10 across two gondolas, allowing for 40 guests to experience the ride at once.

Serengeti Flyer features a 48" height requirement, allowing for younger thrill seekers to experience the rush of Serengeti Flyer.
Iron Gwazi™
Iron Gwazi takes thrills to new heights as North America's tallest hybrid, and the fastest, steepest hybrid coaster in the world. Riders on Iron Gwazi will experience a dozen airtime moments, including three inversions, as they sink their teeth into crocodile-inspired thrills.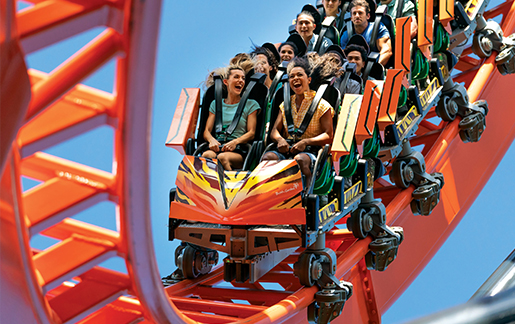 Tigris™
Busch Gardens Tampa Bay brings a new level of excitement with Florida's tallest launch coaster!
Tigris catapults riders through an exhilarating array of looping twists with forward and backward motion, breath-taking drops, a 150-foot skyward surge, and an inverted heartline roll. All at more than 60 miles per hour.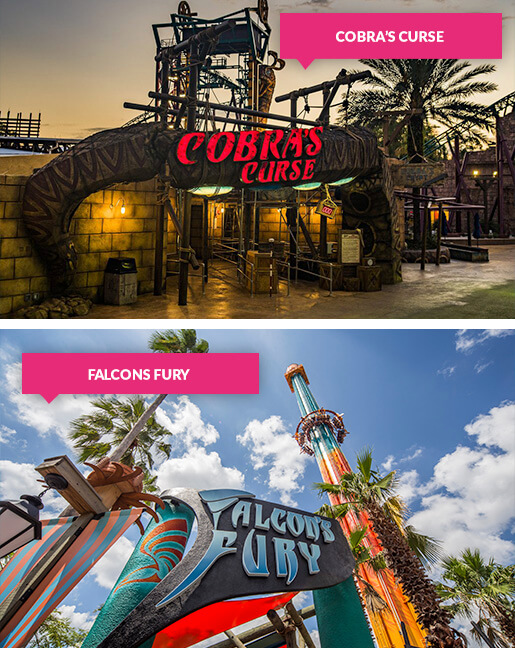 Cobra's Curse®
Buckle up and get ready to take on Florida's first family spin coaster
Hold on tight as you slither and slide along this exhilarating ride!
Falcon's Fury®
Do you have what it takes to ride the tallest freestanding drop tower in North America?
Hold on tight and get ready to drop more than 300 feet at 60mph…FACE DOWN.
It's definitely not for the faint-hearted!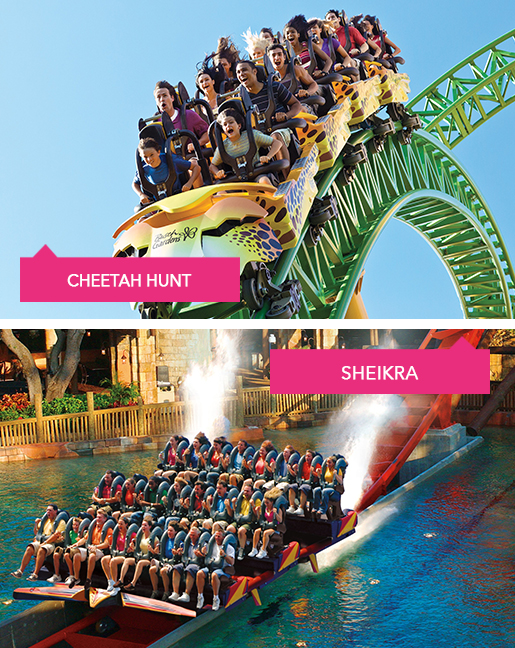 Cheetah Hunt
Just like a cheetah, this triple launch coaster reaches speeds of up to 60mph – now that's what you call a head rush!
Cheetah Hunt is also Busch Gardens' longest thrill ride at a staggering 4,400 feet
SheiKra®
This 200ft tall floorless dive coaster leaves you hanging on the edge of a 90-degree drop, before diving straight down into a 70mph whirlwind!
It didn't get its name for any old reason, that's for sure – your screams will be heard for miles
Rides for the little ones
Busch Gardens is famed for its white-knuckle rides, but there are bucketloads of milder rides, shows and water attractions for the little ones too!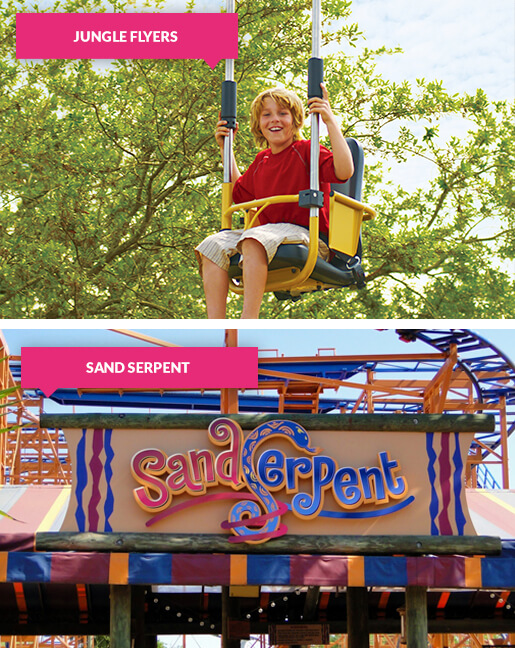 Jungle Flyers
Soar through the sky on this kid-friendly zip-line 50ft above Jungala's Tree Top village
Little ones can pick from 3 different flight paths to see if they can spot the gibbons or flying foxes down below
Sand Serpent®
Hold on tight and get ready to slither around this awesome ride!
If you and your little one love tight bends, drops and corkscrews, the Sand Serpent is right up your street!
Animal Experiences
The animals are the stars at Busch Gardens! Don't forget to check out your park map to find out what times you can meet the keepers!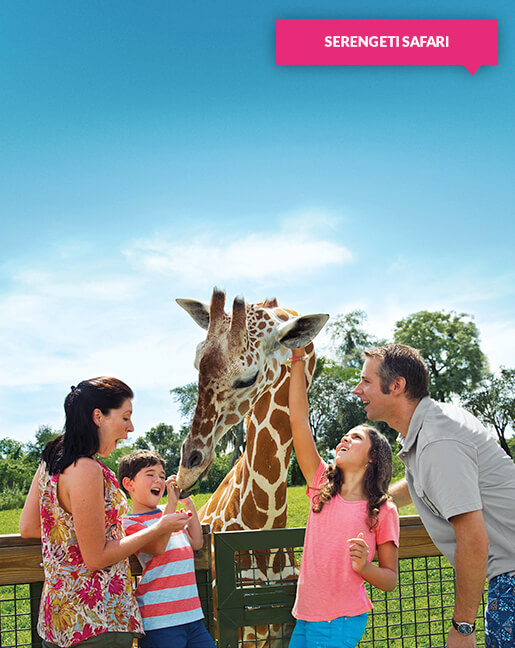 Serengeti Safari®
*Separate ticket required. Currently not available due to covid restrictions.
This wild adventure is the ultimate highlight of your experience at Busch Gardens!
The Serengeti Safari Tour takes you right to the centre of the action, where hundreds of animals roam free on Busch Gardens' Serengeti Plain®.
Get ready for some amazing photo opportunities as you venture out into this enormous natural habitat on a 30-minute open-air safari truck expedition. Meet zebras, rhinos and antelopes and even feed a giraffe a leafy snack!
Your personal tour guide will entertain you with funny stories and fascinating information about the animals who live there.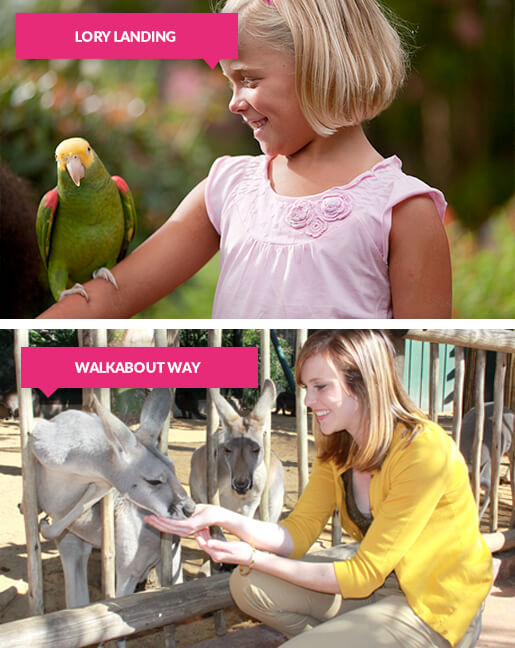 Walkabout Way®
Say G'day to the animals of Australia! Here you can hand-feed friendly kangaroos and free-roaming wallabies, as well as meeting more creatures from down under such as kookaburras and tawny frogmouths.
The animals here are most active in the morning and at dusk, so these are the best times to visit as you'll have the best chance to hand-feed them or even pet them!
Insider Tip: Check out the kangaroo feeding times when you arrive at the park, and ask the kangaroo keepers about bottle-feeding the baby kangaroos (known as joeys).
Lory Landing™
Make some new feathered friends as the friendly, colourful Lorikeets glide down to say hello - and feast on the cup of fresh fruit nectar in your hand! You can also meet other birds like hornbills, pheasants and many more.
Insider Tip: Don't forget to pick up a cup of nectar on your way in to hand-feed the lorikeets!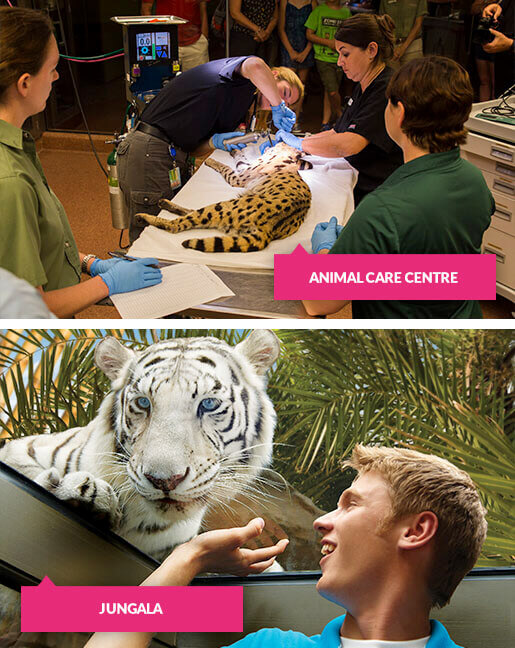 Animal Care Centre
Get a first-hand glimpse of - and even take part in - the animal care at Busch Gardens! From nutrition to treatments, X-rays to surgeries, you'll be able to watch animal care first-hand in this state-of-the-art facility.
Jungala®
Experience three storeys of jungle life at Jungala, from a tiger's underground lair to an orangutan habitat in the treetops!
Get an incredible view into the middle of the tiger enclosure on the Tiger Trail, cool down on Wild Surge, a shot tower that launches you above a waterfall, and little ones can soar through the treetops on the Jungle Flyers zip line.
Insider Tip: Check the keeper times on the back of your park map for feedings and special encounters!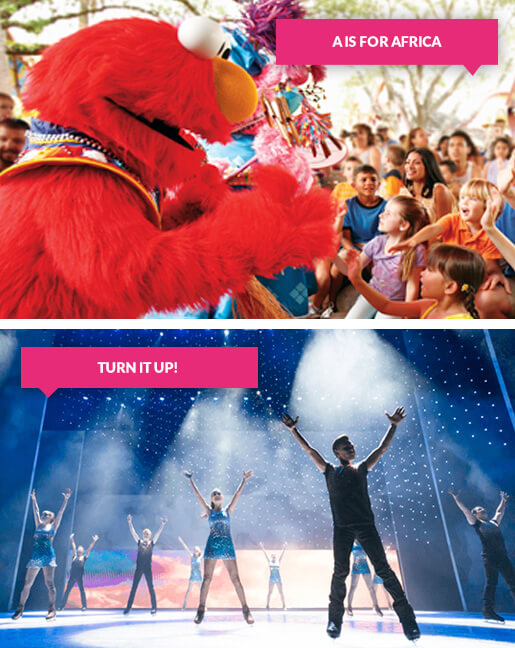 Enjoy live shows from world-class performers – along with a few rescued rising stars!
Busch Gardens has live shows for all ages, from the laugh-out-loud antics of rescued pets starring in Critters Inn Charge to the breathtaking performances on ice during Turn It Up! to the kid-friendly fun of Storytime at Sesame Street Safari of Fun.
Frequently Asked Questions
Where is Busch Gardens Located?
Busch Gardens is located in Tampa, Florida, about eight miles northeast of Downtown Tampa. The address of the park is:
10165 N McKinley Dr
Tampa, FL 33612
1-813-884-4FUN (4386)
How Far is Busch Gardens from...
From Downtown Tampa:
About 15 minutes by car.
From Disney World:
About 70 minutes by car.
From International Drive:
About 75 minutes by car.
From Kissimmee:
About 90 minutes by car.
Travel Options from Orlando:
It'll take around 70-90 minutes to drive from Orlando to Busch Gardens, taking the I-4 West, and then the I-75.
All tickets to Busch Gardens include free shuttle bus transport from Orlando. The journey takes approximately 90 minutes (depending on pick-ups), and can be arranged here once you have bought your ticket.
How many rides are in Busch Gardens?
16, including Tigris which opened in Spring 2019.
How much are tickets to Busch Gardens at the Gate?
$109.99 for a single park ticket, which is approximately £90. You can purchase 3 for 2 tickets above (14-day admission for Busch Gardens, SeaWorld and Aquatica) for £113 per adult.
How many parks does Busch Gardens have?
One park, which includes both thrill rides and a large safari home to over 200 species of animals.
How big is Busch Gardens?
Opening Times
Busch Gardens is open between 10am- 7pm, but times may vary depending on the season so we always recommend to check in advance before your visit
Getting There
Address
10165 N McKinley Dr, Tampa, FL 33612 – around 90mins from International Drive in Orlando
Parking
Parking costs $17 per day for cars & motorcycles
Parking at all 3 parks is free with the 3 for 2 ticket
Busch Gardens Shuttle Express
The Busch Gardens Shuttle Express service to Busch Gardens in Tampa resumes from January 2022 and provides a return service from the Orlando area to the park in Tampa.
This service will be complimentary to all guests with a multi-park, Busch Gardens inclusive ticket in hand.
Drop Off & Pick Up Locations
Drop off and pick up locations are the following:
1. SeaWorld (near the bus & taxi drop-off)
2. ICON Park, 8350 Universal Blvd (8445 International Drive, (in the heart of the Entertainment district of I-Drive)
3. Publix, 8145 Vineland Avenue, Lake Buena Vista (near Premium Outlets – Lake Buena Vista area)
4. Old Town Entertainment District, 5770 W. Irlo Bronson Memorial Hwy (serving 192 East in Kissimmee)
5. Doubletree Orlando by Hilton at the Entrance to Universal Orlando, 5780 Major Blvd, Orlando, FL (serving North International Drive area and Universal Orlando guests)
6. Margaritaville Resort – 8000 Fins Up Circle, Kissimmee
IMPORTANT
The service schedule will vary through the year and be subject to change. For guidance purposes only, the Orlando area pick up will be between 0830 and 0930 - depending on location. The return journey from Busch Gardens will depend on park closing time and vary throughout the year.
Guests are recommended to make a reservation for the Shuttle Express to secure their seats. This can be completed by calling 800-221-1339 or visiting https://buschgardens.mears.com. Schedules can be confirmed at this stage.
Height
Height restrictions apply on some rides Busch Gardens.
Disabled Access
Busch Gardens is wheelchair-accessible
Some rides at Busch Gardens are not suitable for people with disabilities
See our Busch Gardens Park Guide for more information about disabled access at the park
Dietary Requirements
If you have any dietary requirements please contact Guest Relations when you arrive at Busch Gardens