Adventure Island Tampa Bay
From serene to extreme, the fun never sets at Adventure Island, Tampa's island paradise! Adventure Island® is 30 acres of water-drenched fun in the sun featuring the ultimate combination of high-speed thrills and tropical, tranquil surroundings for guests of all ages.
Eat for FREE at both Parks!
Adventure Island Rides & Attractions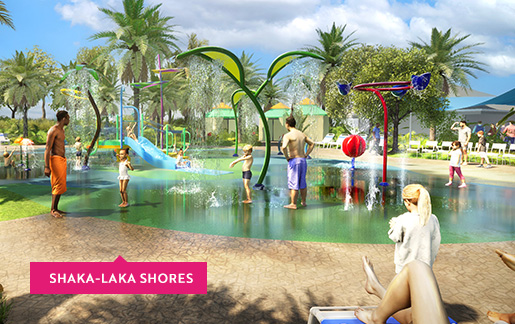 NEW! Shaka-Laka Shores
All-New Interactive Splash and Play Zone
Shaka-Laka Shores, located in the heart of Adventure Island, features 25 play elements and a central kid-friendly play structure bound to entertain and engage even the youngest of guests. The newest addition also includes a variety of interactive aquatic components, all within a zero-depth area - ideal for smaller kids - as well as additional shaded sections.
Rides and Slides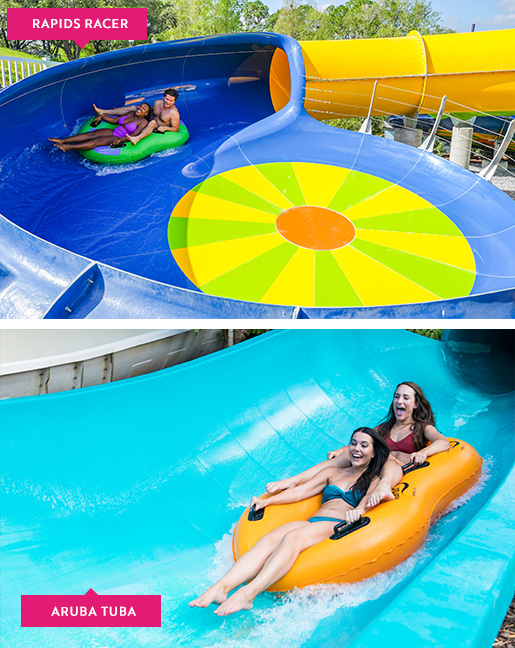 Rapids Racer
World's first duelling saucer water slide Three, two, one go!
Feel the rush of competition on Rapids Racer! Riders grab a two-person raft before racing through nearly 600 feet of slide, complete with low walls to encounter your opponents throughout this side-by-side experience. The thrill of the chase is amplified as guests swirl through the world's first duelling saucers in this exhilarating journey full of high-speed tunnels, turns, and more. Who will conquer this high-speed slide first? Find out at the finish line!
Aruba Tuba
Hang on, this is one fast water slide!
Go solo or grab a friend, Aruba Tuba™ is one ride you want to brave! We hope you're not afraid of the dark! This enclosed water slide will heighten all your other senses as you shoot through the dark to the bottom at a raging speed and into the splash pool. Dare it by yourself or grab a friend to join you on the double-person tube.
Solar Vortex
This high-thrill family raft slide combines high-banking rotations and rapid descents, sending sliders on a swirling journey through two open tailspin features. Manufactured by Whitewater, Solar Vortex will also include three dynamic AquaLucent™ elements – harnessing the power of the Florida sun into colourful patterns that shine through the slide as riders reach speeds of up to 20 miles per hour.
Vanish Point
Plunge 70 Feet on Adventure Island's Drop Slide
Prepare to vanish down an epic free-fall at Vanish Point®. This water slide will literally pull the floor from under your feet. Prepare to drop down this 70-foot drop slide that lets you choose between two skyboxes. And smile for the camera, because we're capturing your moment live! Each slide will send you through 425 feet of spiralling tubes until you reach the splash run finale. Are you brave enough to take on Vanish Point®?
Wahoo Remix
Enjoy waves of water and sound as you splash to the beat of a remixed favourite attraction.
Formerly Wahoo Run, Wahoo Remix is Adventure Island's first water slide to feature synchronized light and sound elements, delivering an all-new, high energy, family raft ride experience with ultimate party vibes. Enclosed tunnels that were once dark glow and groove as riders zoom through over 600 feet of fun.
Wave Pools, Rivers and Family Fun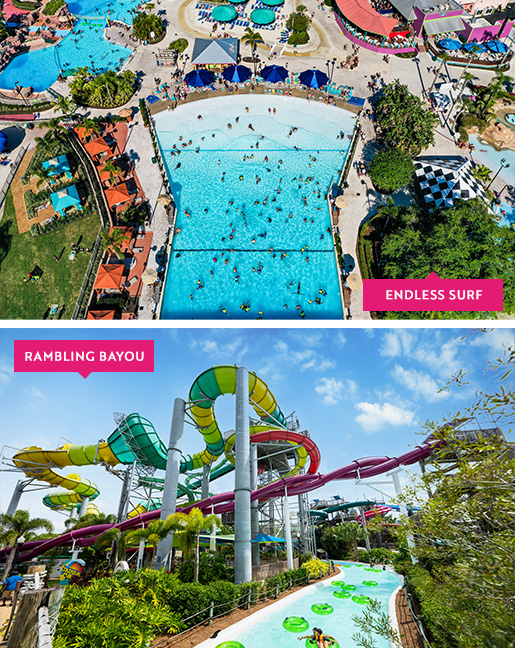 Endless Surf
The surf's always up in our breath-taking, 17,000 square foot wave pool. A rolling surf with waves awaits you every ten minutes.
Rambling Bayou
This calm, half-mile tube trip will take you on an adventure through the park. Rambling Bayou™ is a relaxing way to take a break from the excitement and keep cool. It's a perfect bit of rest and relaxation between thrills and spills.
Splash Attack
Splash Attack® is a maze of soakin' fun with a surprise centrepiece and a huge tree house with more than 50 water play toys. There's no telling what you will get you wetter, the 1,000-gallon wooden bucket that empties every seven minutes or the 500 feet of twisting open flumes and closed tubes gushing with swirling water. The tree house is filled with water toys like jets, levers, and rope pulls, plus twisting slides, bridges, cargo nets, and web crawls.
Key Restaurants
Surfside Café
When your appetite becomes as big as the slides at Adventure Island, head to Surfside Cafe for a variety of delicious meals and desserts. The menu includes burgers, chicken strips, and fresh salads, along with ice-cold beverages and brews.
Mango Joe's
There are plenty of fan favourites to fill up on at Mango Joe's. The menu offers smoked chicken, ribs, BBQ pork sandwiches, and fresh salads. Top it all off with one of our freshly made desserts or cool down with one of our frozen cocktails, bottled beverages and draft beer from the Bayou Beach Club. We've got something for the whole family!
Does Adventure Island close for capacity?
In order to ensure our guests' comfort and safety, Adventure Island's capacity is limited. Admission into the park may be temporarily suspended during the day due to periods of high attendance.
Are lockers available?
All-day lockers are available for rental at the Main Entrance, Mango Joe's, and Splash Attack for storage of personal belongings. Lockers are also included in our cabanas.
May I bring my own food and beverages into Adventure Island?
No outside food, beverages, or coolers are allowed to be brought into Adventure Island Tampa Bay, except you may bring a bottle of water or a refillable water bottle. Exceptions may be made for Guests with special dietary needs, including food allergies and baby food/formula. Guest should contact Park Security when they arrive at the Park for approval to bring in special dietary foods.
What should I wear?
Guests must wear proper swim attire. Thong bathing suits are not allowed. Cotton T-shirts and shorts, Cutoff jeans, denim of any kind, cargo shorts and frayed shorts are not allowed allowed on body slides. Clothing with metal button, clips, and trim are also prohibited. Water shoes are permitted in pool areas, pathways and all tube based attractions. Water shoes are strictly prohibited on all body slides. Please note that for all slides, swim attire with buckles, rivets and any sharp objects are not permitted.
How much is parking?
$30 - General Parking for cars, motorcycles, trucks, recreation vehicles and campers