Disney & SeaWorld Combo (9 Parks)
14 days' access to all of the Disney World Florida parks, plus SeaWorld, Busch Gardens & Aquatica!
Unlimited visits for 14 days
FREE Parking
At SeaWorld, Busch Gardens & Aquatica
Disney Ticket Update: Know Before You Go
IMPORTANT: You must select a start date when booking in Disney Park tickets - this should be the first day you will visit the parks Before making your booking, you must make sure that there is park availability for your chosen dates and duration of your ticket. Park availability can be checked on the calendar below
For Disney Park admission, both a valid Disney Ticket and a date-specific theme park reservation (subject to availability) are required
Reservations for Disney Parks can only be made once you have paid for your Disney Tickets in full
Ensue you link your tickets to My Disney Experience when you receive them, so that you can then start reserving park days
Want to visit Disney World, SeaWorld and Busch Gardens while you're in Florida, but prefer not to pay the price of all the individual tickets?
This Disney World & SeaWorld Parks Combo Ticket gives you unlimited admission to all of these parks – PLUS Aquatica water park - for one great value price!
Booking your tickets in advance also means you'll cut down on queuing times with Disney's GENIE Service!
Enjoy ALL of these parks with your Disney & SeaWorld Combo Tickets: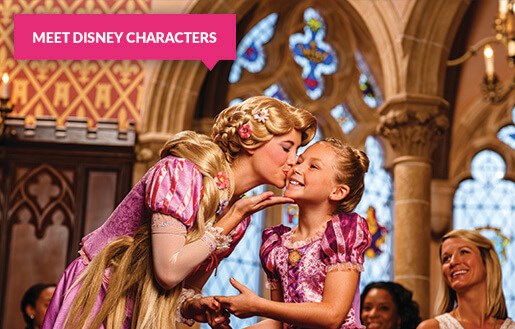 14 days' unlimited admission to the Walt Disney World Parks:
Magic Kingdom
Epcot
Hollywood Studios
Animal Kingdom
PLUS One Water Park (dependent on season availability)
Blizzard Beach Water Park
Typhoon Lagoon Water Park
Plus:
Disney's Oak Trail Golf Course*
ESPN Wide World of Sports Complex**
PlayStation® Pavilion at ESPN Wide World of Sports Complex***
Disney's Fantasia Gardens Miniature Golf Course or Disney's Winter Summerland Miniature Golf Course****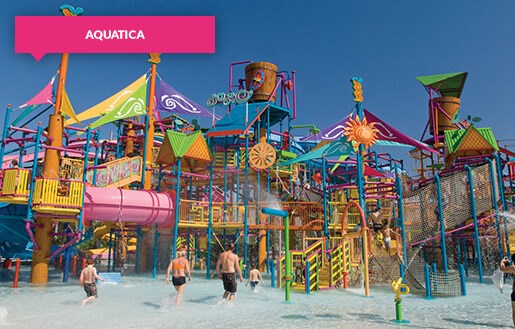 14 days' unlimited admission to the SeaWorld Parks:
SeaWorld Orlando
Aquatica
Busch Gardens Tampa Bay
What else is included?
As well as admission to 8 epic theme parks, the Disney & SeaWorld Combo Ticket also includes: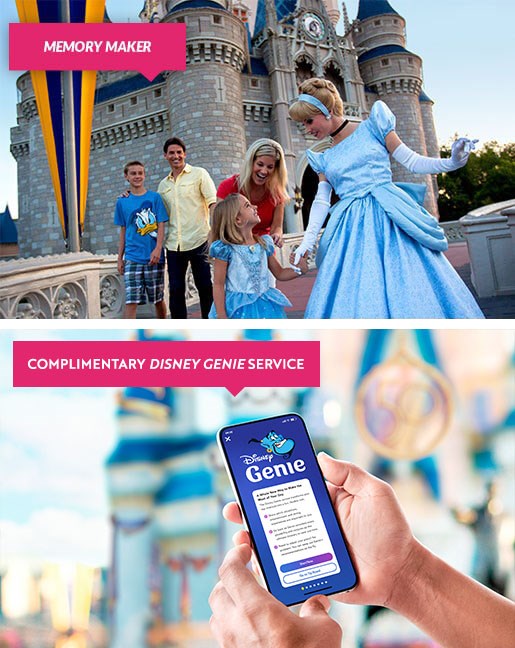 Disney World Memory Maker worth $199!
Capture all your Disney World memories with the Memory Maker, which magically stores all of your Disney PhotoPass photographer pictures - including ride photos - so no-one needs to step out of your group to take a picture! (Included with 2023 & 2024 tickets)
Find out more about the Disney Memory Maker
Free Parking at SeaWorld, Aquatica & Busch Gardens
What are the benefits of booking a Florida Combo Ticket?
With a combo package you can get all the Florida park tickets you want at a lower price than buying each ticket individually - so if you want to save money on your Florida holiday, a combo is the way to go!
Why should I book my Combo Tickets in advance?
Exclusive packages you can't get in the USA!
Our combo tickets are exclusive to UK customers, which is how we can get such good prices. Once you're in the States, you won' be able to buy these tickets.
You can use My Disney Experience
My Disney Experience gives you access to all kinds of tools and helpful guides to plan your time at Disney World in advance, so you know you won't miss out on anything!
Find out more about My Disney Experience
Terms & Conditions
Disney's 14 Day Ultimate Ticket expires 14 days from first day of use or 31 Dec of the year travelling. All tickets must be used for the first time in the same calendar year as printed on the ticket. Standard booking terms and conditions apply and the promotion is subject to availability. Water parks subject to seasonal closure. Parks, attractions or entertainment may change operating hours, close due to refurbishing, capacity, weather, or special events, and may otherwise change or be discontinued without notice and without liability. Disney reserves the right to change tickets entitlements at any time without prior notice. As to Disney artwork and properties ©Disney.
*Disney's Oak Trail Golf Course Admission: This applies to greens fee only. Tee time reservations are required and subject to availability
**ESPN Wide World of Sports Complex: Valid only on event days; some events require an additional admission charge.
***PlayStation® Pavilion: Your ticket can be used for 30 minutes of play per day, on days when the PlayStation® Pavilion is operating. It is valid once per day for the life of your ticket.
****You may only visit one miniature golf course per day and cannot visit both on the same day. Valid for one round per day (round must start prior to 4pm).
Important: Make a copy of your Disney tickets before you go to Florida!
Your Disney World tickets are unique, so we are unable to replace them if they are lost or stolen. Therefore we strongly recommend that you take a photo or a make a copy of the back of your Disney tickets, as proof of your unique ticket numbers.
Disney World will only be able to re-print your tickets if you have proof of all ticket reference numbers.
Disney World tickets are not refundable or transferable.
Busch Gardens Shuttle Express
The Busch Gardens Shuttle Express service to Busch Gardens in Tampa resumes from January 2022 and provides a return service from the Orlando area to the park in Tampa.
This service will be complimentary to all guests with a multi-park, Busch Gardens inclusive ticket in hand.
Drop Off & Pick Up Locations
Drop off and pick up locations are the following:
1. SeaWorld (near the bus & taxi drop-off)
2. ICON Park, 8350 Universal Blvd (8445 International Drive, (in the heart of the Entertainment district of I-Drive)
3. Publix, 8145 Vineland Avenue, Lake Buena Vista (near Premium Outlets – Lake Buena Vista area)
4. Old Town Entertainment District, 5770 W. Irlo Bronson Memorial Hwy (serving 192 East in Kissimmee)
5. Doubletree Orlando by Hilton at the Entrance to Universal Orlando, 5780 Major Blvd, Orlando, FL (serving North International Drive area and Universal Orlando guests)
6. Margaritaville Resort – 8000 Fins Up Circle, Kissimmee
IMPORTANT
The service schedule will vary through the year and be subject to change. For guidance purposes only, the Orlando area pick up will be between 0830 and 0930 - depending on location. The return journey from Busch Gardens will depend on park closing time and vary throughout the year.
Guests are recommended to make a reservation for the Shuttle Express to secure their seats. This can be completed by calling 800-221-1339 or visiting https://buschgardens.mears.com. Schedules can be confirmed at this stage.
Top Guides to read before your trip