Meet Florida's famous gators up-close at the Alligator Capital of the World ® - Gatorland Orlando!
Alligator Capital of the World!
Voted Orlando's Best Half-Day Attraction
With Select Tickets
Admission to Gator Gully Splash Water Park
With Select Tickets
The Screamin' Gator Zip Line
Meet the world-famous Florida Alligator at Gatorland!
Fancy an up-close encounter with real-life gators? You're in the right place! For more than 70 years, Gatorland has been creating Fun, Smiles, and Special Memories for millions of visitors who have entered through its world-famous gator mouth entrance. Full of gator-tastic fun including watching some alligator wrestling, holding a real baby alligator and pumping up your knowledge of all things Gator!
Things to do at Gatorland Florida
Learn everything you need to know about alligators - from interesting facts about their life to survival tips that could come in handy, should you ever come across a gator in the wild.....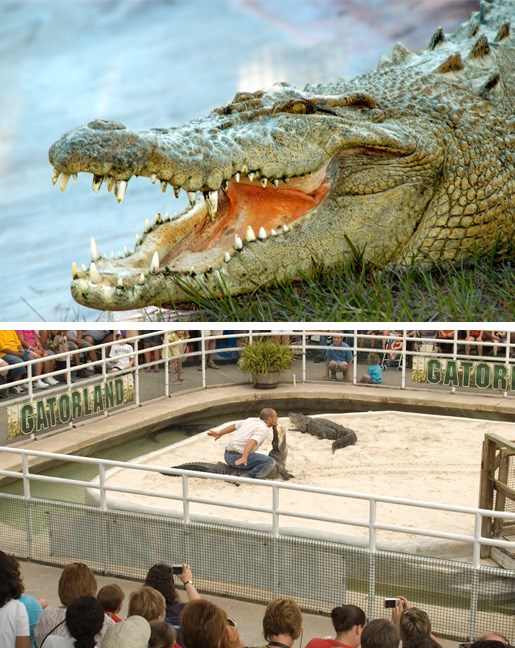 Get up-close and personal with gators, crocs, birds, turtles, zebu, deer and much more!
Come closer to the fascinating world of reptiles than ever before! See hundreds of alligators, crocodiles, snakes and other exotic creatures that live on the 110-acre Gatorland.
Take a look at the alligator breeding marshes from the safety of an observation tower, go on a nature walk with your family, and don't forget to visit the petting zoo – a guaranteed hit with the little ones.
Watch a hungry gator capture its dinner!
Witness the one-of-a-kind Gator Jumparoo Show - see some of the largest gators on the planet make an impressive 5-foot leap out of the water, in an attempt to get their teeth stuck in a tasty chunk of meat.
That's not all! Watch as one of the bravest daredevils at Gatorland takes the stage with a 6-8 foot alligator in order to demonstrate the amazing survival features of this legendary creature! The Alligators – Legend of the Swamp show is not to be missed!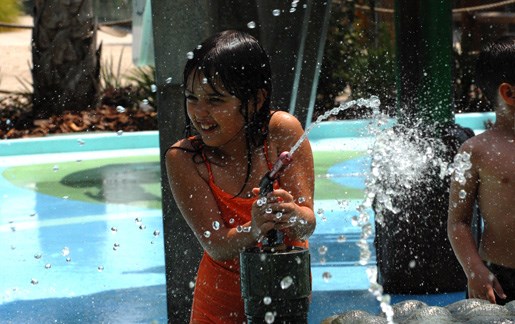 Gator Gully Splash Park*
Make a splash at Gatorland's very own waterpark - Gator Gully Splash Park! This quarter acre water theme park, located right in the heart of Gatorland, will keep children of all ages happy. Just relax, enjoy the cooling water and have a refreshing afternoon with the family.
Want even more fun with gators?
There's so much more to do in Gatorland Florida! Check out the ticket options and discover our exciting selection of awesome experiences: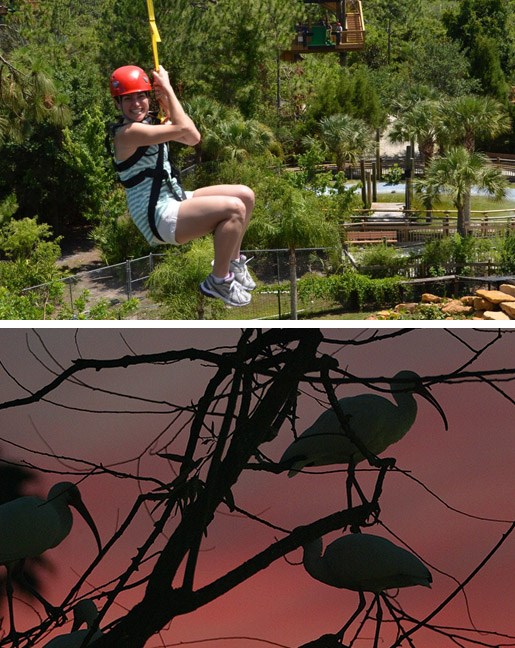 The Screamin' Gator Zip Line
Let's get your blood pumping! Put on your helmet, strap on your harness and get ready to fly over the park's main attractions in a 2-hour adventure on the Gatorland Zip Line.
You'll be 65 feet in the air, zooming by at a speed of 30mph. Are you brave enough to look down at the giant gators, crawling beneath you?
A highly-trained guide will also be there to separate the facts from the myths about the giant reptile residents of Gatorland.
Gatorland Night Shine Tour
Wildlife is not the same at night and you'll soon find out why! The Gatorland Night Shine Tour will take you around the Gatorland Breeding Marshes after dusk.
Clutch your torches as you listen to the noises of the night. Feel your heart jump with every splash in the water, as thousands of shining gator eyes follow your every move.
Everyone knows that the way to a gator's heart is through its stomach, so get into the gators' good books by feeding them some tasty hotdogs!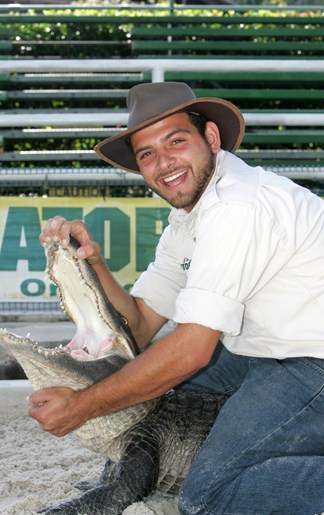 Be a Gator Trainer for the Day
Are you ready to be a Trainer for a Day? On this 2-hour experience you'll find out what it's like to work with Gatorland's giant reptiles.
Get up-close and personal with the gators, hold the smallest baby alligators in your hands and come near the largest crocs that live in Gatorland.
Enjoy hands-on sessions with various reptiles on a backstage tour of the park, and even set foot in the Gator Wrestling Arena.
*Included with select tickets
Frequently Asked Questions
What is Gatorland?
Officially the "The Alligator Capital of the World", Gatorland is a family attraction and adventure theme park. The park is one of the few places you can safely see alligators and crocodiles of all sizes, from babies, to the 14-foot monsters.
As well as gator experiences, the park includes free-flight aviary, petting zoo, animal shows, zip line and the Stompin' Gator Off-Road Adventure.
How much is Gatorland?
Current Gatorland prices and tickets can be found at the top of the page.
Can you bring food or water into Gatorland?
Yes, there are no restrictions on food or water in Gatorland, so feel free to snack.
Is Gatorland indoors?
The majority of Gatorland is outdoors, but it does have a number of indoor food stores and gift shops.
Availability
Opening Times
Gatorland is open from 10am to 5pm
Getting There
Gatorland Orlando is located at 14501 South Orange Blossom Trail, Orlando
Just minutes from the theme parks, hotels and the International Airport