If you're looking for a water park to slide, race and splash around, look no further than Island H20 - Orlando's newest water park and an unmissable unique immersive social media themed adventure!
Orlando's newest water park
Oh darn!

This ticket isn't available to book right now.

This may be because:
We have sold out
This product is seasonal and tickets for the new season are not yet available
But don't worry! There's loads more to do in Florida, so check out our:

An email has been sent to our team. We'll be in touch as soon as we can.
Sorry there has been an error!
Immerse yourself at Orlando's newest Water Park!
If you're looking for a splash-tastic adventure themed around a unique immersive social media experience - it's all at Island H20!
What's at Island H20?!
Just some of Island H20's 20+ attractions include: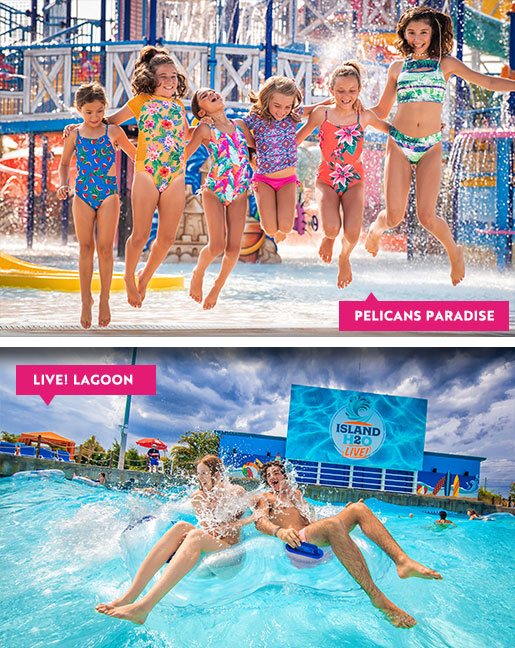 Water Slides
Profile Plunge
Feel weightlessness in this zero-gravity style water ride...whilst jamming out to your favourite playlist with it's modern on-ride technology!
Live Streaming
This is the only looping video embedded water slide in the world. A 360- degree loop provides a visual display you can watch time after time.
The Downloader
A spinning, dropping musical experience of high intensity with an even higher scream volume. For one or two riders
Follow Me Falls
Race down a steep descent before hurtling up a vertical ascent. Feel a scary moment of weightlessness at the top, before turning back for a second downhill drop. For one or two riders.
Reply Racers
Six lanes head downhill over humps with six racers fighting for the bragging rights of being the fastest.
Reload Rapids
Race round tight corners and high banks in tubes in a thrill a minute ride.
Hashtag Heights
Get that zero-gravity feeling and share it with your friends! Relive the rush with on ride video recording whilst taking on this 494ft slide of heart pounding fun!
Kid Zones
Candy Stripe Cove
Rides and slides to thrill the brave little members in the family.
Pelican's Paradise
Splish and splash in the land for little tikes! Pelican's Paradise is complete with an array of adventures to keep the kids entertained all day long
Live Zones
Chat Creek Lazy River
Not here for the thrills? No problem. Take a rubber ring and soak up the relaxation on this lazy river
Level Up Pool
A sizable area of the water park dedicated to sports fans -- not for the faint hearted or chill-out fans. The water is 3'6ʺ deep
Private Domain Adult Pool
Adults over 21 years of age get a well-earned rest and relaxation at this grown-ups pool area. The water is 4' deep
Live! Lagoon Wave Pool
The center of the action and water park where everyone can meet old friends and make new ones. This pool is 5'6ʺ deep
Availability
Park is open daily between March 2023 - July 2023
Park is open between August 2023 Thurs - Sun
Park is open between September 2023 Fri - Sun
All of these dates are subject to change so please check in advance before your visit
Opening Times
Standard opening hours are 10:30am - 5pm but extended hours are within operation on certain days, please check before your visit
Getting There
Address
3230 Inspiration Drive, Kissimmee, FL 34747
Parking
Parking is available at $10 per vehicle.
Restrictions
Height
For safety reasons, height restrictions apply on some of the rides at Island H20 Water Park.
Children
Children under the age of 16 must be accompanied by an adult
Disabled Access
Wheelchairs are not available at Island H20 Water Park, users needing wheelchair transportation will need to bring their own.
Useful Information
We recommend downloading the Island H20 app free of charge before your visit, this will enable you to fully immerse yourself in the interactiveness of the park and allows visibility on attraction wait times, assists on planning your visit and you can also earn points!
Pools are heated in the Fall!
Towels are not provided so please bring your own, alternatively they are available to purchase in park
Lockers are available for rental to keep your possesions
Life vests are available (based on availability) for use free of charge for anyone wanting/needing to use one
Please use swim diapers for children that are not yet toilet trained, these are also available for purchase in park
What am I NOT allowed to bring in the park?
Animals are not permitted except service animals if required by law
Glass or other items that may break and become a hazard
Coolers
Outside food or beverages
Selfie sticks
Shade structures
All personal loungers or seating
Convenience mobility items e.g Rollerskates, bicycles etc
Pool toys
Flotation devices e.g swim fins, snorkels, masks
Drinks other than water
EGG-Venture - Weekends in April
Come out & participate in egg-celent adventures including an egg hunt throughout the park!
Football Weekends - Sept-October
Float in the wave pool and watch your favourite college & NFL teams on the big screen!
Mother's Month - Weekends May 13-21
Treat your mom to a day of relaxation & pampering at Island H2O Water Park!
Mermaids & Pirate Weekends - Oct 7-29
Enjoy a day of fun with a treasure hunt, pirates & mermaids in the park.
Dive-In Movies - Friday Nights June 2-Aug 3
Enjoy movies playing on our Jumbotron wave pool screen while floating in a tube!
DJ Nites - Saturdays & Sundays June 3-Aug 6
The vibe changes as our DJ sets the mood. A different experience in the afternoon.
FOAM Party - Weekends in Aug 12-27
Come play in foam in front of our wave pool from 12pm-4pm. All ages welcome!
Adult FOAM Party - Select Nights 2023
Adults only! Glow party from 7pm-9pm that includes a foam party in front of the wave pool! *Additional cost to attend
Adult Nites - Select Nights 2023
Enjoy adult only parties after normal park operating hours! *Additional cost to attend