Dive straight into the fun at Aquatica - one of the biggest & best waterparks in Orlando!!
Unlimited visits for 14 days
3 PARKS
Admission to Busch Gardens, SeaWorld & Aquatica
Over 36 thrilling waterslides
World's longest drop tower multi-slide
Soak up the sun at one of Orlando's Top Waterparks!
With wild rides, crazy slides, wave pools and sandy beaches, Aquatica definitely has something for everyone!
Aquatica Rides & Slides
Just some of Aquatica's unmissable water rides & rides include: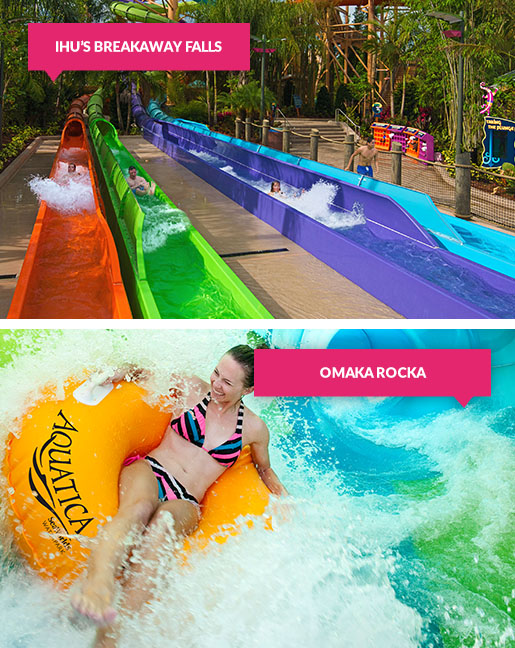 Ihu's Breakaway Falls
The steepest multi-drop tower in Orlando!
Step into one of three clear 'breakaway boxes' and stand face-to-face with the other riders not knowing who'll drop first... Without warning the floor disappears and you plummet 40-feet, then zoom through a 360-degree spiral water slide.
Omaka Rocka
This rapid waterslide was inspired by skateboarding, with high-speed tubes & half-pipes
Speed down flumes into massive funnels, sliding high up one side and then the other!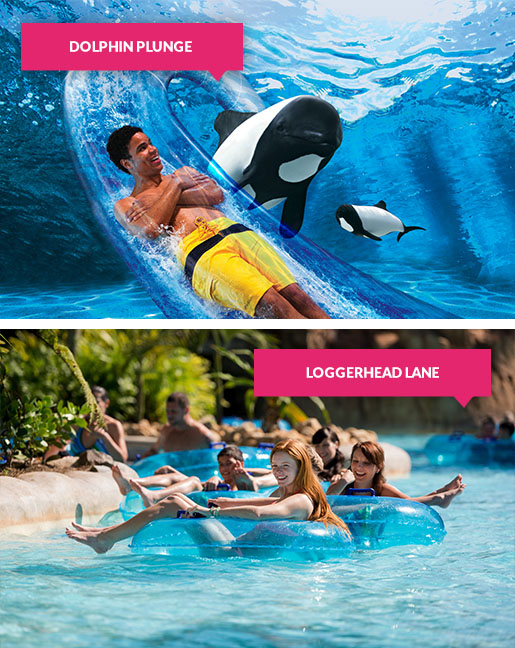 Dolphin Plunge
Race down an enclosed tube slide through an underwater world that's home to a playful pod of Commerson's Dolphins
The beautiful black-and-white dolphins can often be seen racing alongside you as you zoom by!
Loggerhead Lane
Dive into the atmosphere of the southern Pacific & float down the lazy river!
Glide through grottoes of shimmering tropical fish and the Commerson's dolphin habitat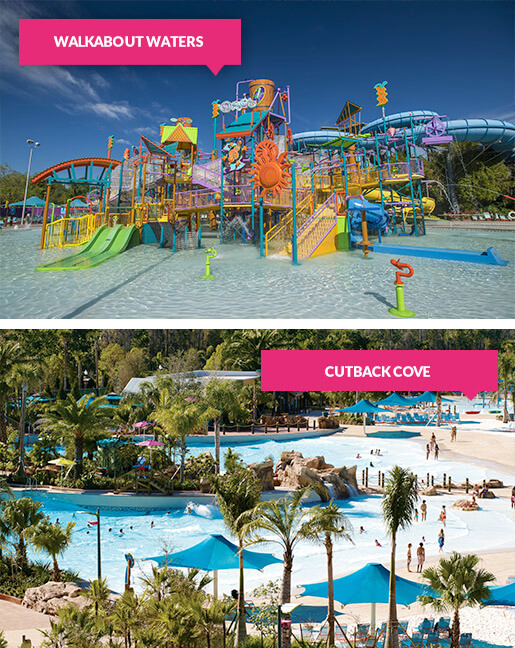 Walkabout Waters
A massive, interactive water play area especially for smaller children, with a giant 60ft play fortress as the centrepiece
The perfect place for kids to play while parents relax!
Cutback Cove & Big Surf Shores
Embrace your inner surfer spirit & learn to surf at Big Surf Shores & Cutback Cove, two giant side-by-side wave pools that you won't find anywhere else in the U.S.
Waves of all shapes and sizes let you decide whether to take it nice and slow, or ride high & wild!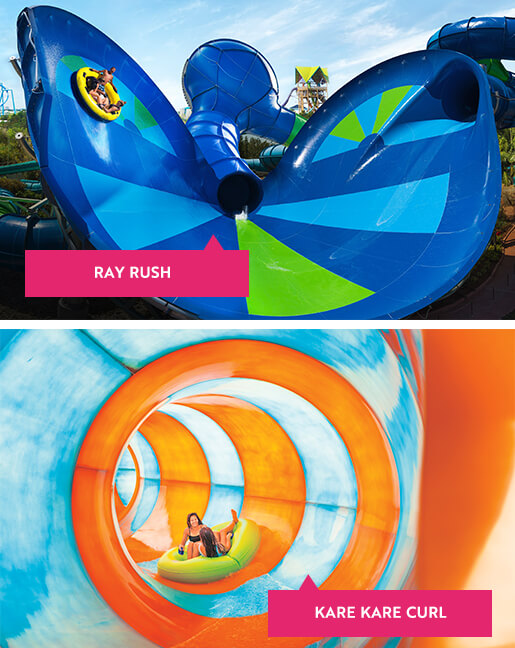 Ray Rush
The only water ride of its kind in all of Florida, the 60ft high Ray Rush combines 3 unique slide elements that have never been seen before at Aquatica:
Get launched at 33 feet per second with water jets designed to propel rafts into the first of several enclosed tube sections
Swirl into a giant sphere which spins the raft around the slide walls....
Drop into an open-air halfpipe in the shape of a manta ray, then fly back and forth on the "wings" of the manta!
And it all ends with a SPLASH!
NOW OPEN

KareKare Curl

Holding two passengers per raft, this new slide delivers a high-adrenaline, weightless adventure complete with vertical wave wall!
Availability
Daily, all year round
The park will close in inclement weather
Aquatica Opening Times
Aquatica usually opens at 9am
Opening and closing times can vary, so we always recommend to check in advance before your visit
Getting There
Aquatica Orlando is located just across the road from SeaWorld!
Address
5800 Water Play Way, Orlando, FL 32821
Parking
Book the 3 for 2 Ticket and parking is FREE at all 3 parks!
Normal parking costs per day are:
Cars & Motorcycles $17
RVs $25
Preferred Parking $22
Remember: if you are visiting Aquatica and SeaWorld on the same day, you only need to pay once for parking!
Restrictions
Height
For safety reasons, height restrictions apply on some of the rides at Aquatica
Coloured signs show which attractions are accessible to each guest based on their height
If you're less than 48"/4ft/1.22m tall, you must wear a life vest, which will be provided. Also, you must be accompanied by a supervising companion
Want to check your height? Just ask the staff at the concierge cabana when you arrive at Aquatica and they'll help you find out
Weight
For safety reasons, weight restrictions also apply on some rides in Aquatica
Smoking
Designated areas only
Children
Children under 13 must be accompanied by an adult
Disabled Access
Aquatica Orlando is fully wheelchair-accessible, apart from on the wave pool's sandy beach
Some attractions at Aquatica have towers with steps. These steps are accessible under current ADA guidelines
The rivers and family attractions have 'beach' style entryways, without steps
Service animals are welcome to accompany guests with disabilities – however they are NOT permitted on any of the rides or attractions!
Aquatica has been designated as a Certified Autism Center in conjunction with the International Board of Credentialing and Continuing Education Standards (IBCCES)
Facilities
Facilities at Aquatica include:
Lockers
ATM machines
Lost child service
Travel assistance
Towel rental
Use of life vests
Cabana rental
Stroller rental
Wheelchair rental
ECV (mobility cart) rental
What to Wear
Avoid very revealing swimwear - Aquatica is a family-friendly park!
Children in nappies are required to wear waterproof nappy protectors
Food & Drink
Aquatica Orlando has a wide range of dining options to keep you fuelled up and ready for a day on the water rides!
For unlimited dining at a great one-off price, get the Aquatica All Day Dining Pass.
What am I allowed to bring in the park?
Individual serving size (under 3oz) packs of snacks such as crisps, crackers, fruit etc.
Bottled water
Baby food in plastic containers
What am I NOT allowed to bring in the park?
Glass containers
Drinks other than water
Picnics or food items such as bags of snacks larger than 3oz, hot dogs, pizza, sandwiches, fried chicken etc.